A Guide For Using Architectural Design Programs For Beams and Columns
March 02, 2022
|
6 min read
Beams and columns are two common structural elements found in architecture. They are both members of the load-bearing system. The main difference between beams and columns is their function. While beams transfer loads vertically, columns transfer loads horizontally.
Architectural design programs for beams and columns help you create these structures in a fast and efficient manner. You can use them to generate beam or column models with different shapes and sizes. In addition, they allow you to define the material properties of your structure.
This article will discuss how architectural design programs work and what you need to know before using them.
Architectural Design Programs – What Are They?
There are many types of architectural design software available on the market today. Some of them specialize in creating building designs, while others are more general purpose. These programs vary in terms of features, price, and complexity.
The best architecture design software allows designers to draw 2D building plans, 3D modeling features, and parametric drawings.
This section will explain how to use architectural design programs to create beams and columns. We'll also show you how to work with the program's tools so that you can produce accurate results.
Architectural Software Programs: How To Create Beams And Columns
Creating beams and columns is an essential step in any architectural design process. They ensure the proper support for the other parts of the building. They also give the interior of the building a specific look.
However, several problems may arise while creating these two structural elements. First of all, you must understand the required standards for these items.
Moreover, even though architectural design programs have many features, some might not be useful for specific projects. Therefore, it's crucial to learn how to use your design tool properly.
If you want to make the best possible use of the available options, you must download the appropriate architecture design software. Some programs offer more advanced features than others, but regardless of the number of options, here are some basic steps you must follow when designing beams and columns:
Start By Choosing Your Project Type
Most architecture design programs allow you to choose whether to work on a residential or commercial project. While both types of buildings require similar calculations, the requirements for residential designs differ from those of commercial ones.
For example, while residential projects do not typically include large spans (the total distance between supports), commercial projects often do. You need to consider the maximum length of your beam or column when planning your project.
Choose A Beam Or Column Shape
The next thing you need to decide is which shape your beam or column will have. You can either select a preset option or click and drag the mouse pointer over the surface of your screen until you get the desired result.
Measure Your Length And Height
Next, you should determine the exact length of your beam or columns. If you plan to use a template, you first need to find one that matches the size of your project. Otherwise, you can enter the measurements manually.
Calculate The Volume Of Your Beam Or Column
Once you have determined the dimensions of your beam or column, you now need to figure out its volume. To do this, multiply the height by the width of the structure. Then, add the depth of the beam or column to the resulting value.
Determine Whether You Need An Internal Support
After calculating the volume of your beam or column and determining its external dimensions, you can move on to calculate the amount of internal support needed to keep the load within the specified limits.
Draw Curved Supports On Your Beam Or Column
Now that you know how much internal support is needed, you can draw curved supports using the existing beam or column as a reference point. This way, you won't have to start from scratch each time you create curved supports.
Create Connectors Between Beams And Columns
Finally, you need to connect beams with columns to form a complete building framework. When doing this, you can either use connectors that come with the program or buy additional components separately.
Check Your Work In 3D Mode
Finally, you can test your model by viewing it in three dimensions. Doing so will display your entire frame in three-dimensional mode, allowing you to see if everything fits properly.
You can also use this feature to check the overall appearance of your project. Once you are satisfied with the results, you can save your file and continue working on other aspects of your project.
Final Considerations
If you are looking for an easy way to build a simple wooden house, you might consider using architectural rendering software. It allows you to quickly and easily create various models without having to learn complex computer-aided design (CAD) software.
However, it does not replace the need for professional help. If you don't understand what you are doing, you could end up spending more money than necessary.
Before choosing a particular product, make sure that you fully understand all the features available. Also, be sure to contact someone who has used the software before. They can provide valuable advice about whether this software would work best for your needs.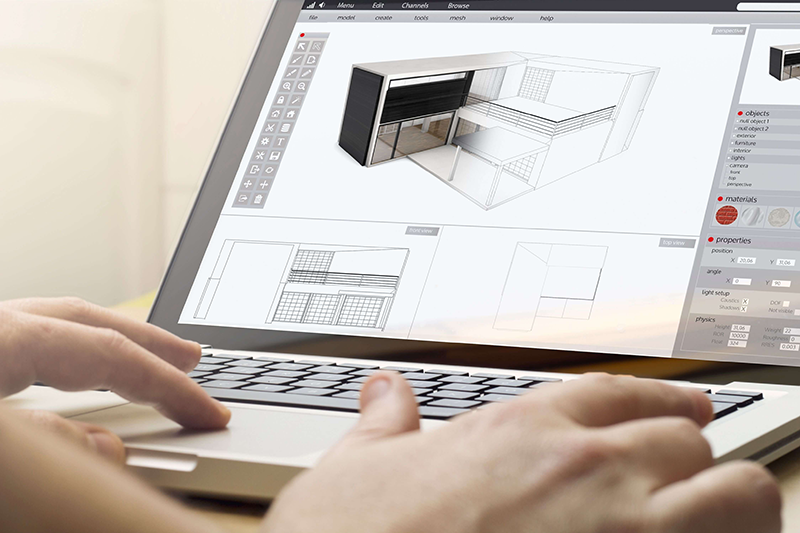 Presenting Our Best Architecture Software
At StruCalc, we understand the importance of providing our users with smart building tools at affordable prices. That's why we've developed a range of structural design programs that enable users to quickly and efficiently create their designs.
Our most popular software is called StruCalc Plus. It's designed specifically for architecture professionals and engineers to create professional models as well as provide fast access to accurate structural calculations.
With StruCalc, you can quickly create realistic models of any building project, including residential homes, commercial buildings, industrial structures, and many others.
Designing beams and columns are made easy with StruCalc. You can start a new project right away or choose from one of our pre-designed templates. We offer 30 day free trials so that you can try out our software risk-free.
If you want more information about our product, you can reach us at +1 (800) 279-1353 or email us at [email protected].